Planning a wedding or event can be seriously stressful, so how would you find the best DJ in Kingston? Well, you have come to the right place, but just in case you weren't already convinced here is a quick guide to making sure you pick the right DJ for the job.
Mobile DJ Hire Kingston 
When choosing between a list of different DJ's and entertainers, there are a few things you should look out for.
Firstly, you want your DJ to be experienced and have a proven track record. Fizz and Groove have 100% 5 star reviews on google, Yell and Hitched. Gary (the managing director and head DJ) has 15 years experience DJ'ing at everything from weddings, birthday parties and clubs, to corporate events.
How to pick a wedding DJ
Secondly, you want someone who is going to be reliable. You do not want someone who is going to turn up with old, outdated, unreliable equipment. Or even not turn up at all. I really believe that most people would be shocked at just how many enquiries we get, where people tell us that their wedding DJ has let them down at the last minute.
Fizz and Groove will NEVER let any client down. Even if someone offers us 5 times the money to DJ at another event on the same day. The answer would be a big no. DJ's that do this give us all a bad name.
I started this company with the vision that I wanted to be DIFFERENT from all the unprofessional, cheesy mobile DJ's out there.
Reliable DJ's
I have heard SO many stories over the years of nightmares where DJ's have turned up with sub standard equipment, and an amp, speaker or laptop has stopped working, ruining the event.
We only use top of the range equipment. But even so, we still bring spares, leaving absolutely nothing to chance.
That feeling you get from the right DJ
I truly believe that one of the best ways to work out if the DJ is right for you, is to have a telephone conversation and ask lots of questions. An experienced DJ will have heard it all, and will have good answers for any of your worries and queries.
Are they going to play the awful requests that my mad uncle is going to ask for? How does the first dance work? Are they going to spend all night talking on the mic?
For us, the answer to those questions is really simple and we can easily put the clients mind at rest so that you can worry about planning your event
Wedding DJ prices 
So how much does the average wedding DJ cost?
How long is a piece of string. Just like any industry, you will come across a wide range of prices, for a wide range of services. DJ's are no different. I will give you two examples which may help to illustrate the wide service and price differences.
This person is probably able to charge this sort of money because their equipment set up has only cost him about £1,000. They have probably only been djing for a year or so, so the skill level, when it comes to mixing is not there yet. They will have poor disco lighting, if any at all.
The problem with this scenario is that the music is going to sound poor quality or be too quiet. There is an increased risk of equipment failure. The set up is not going to look professional at all. You run the risk of the inexperienced DJ playing the wrong songs at the wrong time. DJ A is probably not going to have P.L.I or pat tested equipment.
The cheap, inexperienced DJ has every chance of absolutely ruining what could be a good party.
For this sort of price, you are probably going to get someone who has spent a lot of money getting high quality equipment. This is likely to include high quality lighting, controlled by the DJ. They will take pride in their performance and can command prices like this for good reason. One or two bad reviews can absolutely destroy a business like this, so they give every single client a great service. This DJ will likely have P.L.I and Pat tested equipment. Other potential services include online event planners etc.
Ultimately, the point we are making is, you do get what you pay for.
Hire the best DJ in Kingston
So, if you want a high quality DJ, who is going to absolutely MAKE your wedding or event… You're in the right place. Do not compromise on quality or reliability. We are a family run business, and when it comes to weddings, we have been there and done that. Therefore we know what is important to you.
Fizz and Groove specialise in weddings, corporate events and christmas parties, but can cater to all events. We cover London and the home counties. Furthermore we are recommended suppliers at venues in Kingston, Richmond, Chelsea and Wimbledon.
We are currently recommended suppliers at a number of venues including The Barn at Sunbury Golf Club and Milford golf club. This is a constantly growing list. Please check out our reviews on Google by searching for us by name or clicking Google reviews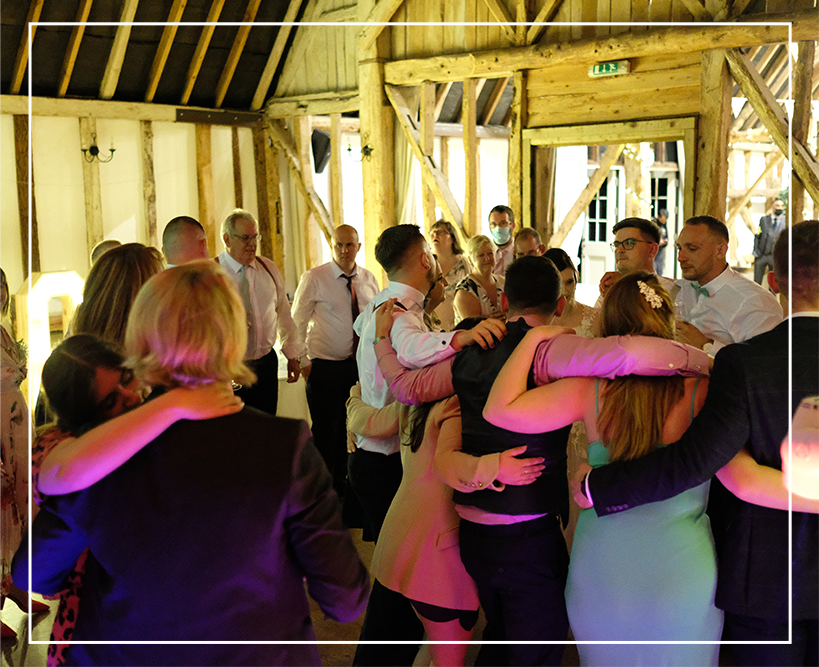 We provide DJ services in Kingston upon thames, Richmond, Wandsworth, Sutton, the rest of London, Surrey and beyond.