Why Fizz and Groove are the best wedding DJs in Kent
There are a hundred reasons why Fizz and Groove are the best and only choice when it comes to wedding DJs in Kent and we are going to tell you all of them.
Whether your venue is in Ashford or Canterbury, Edenbridge or even Royal Tunbridge Wells, we will give you the best wedding party that money can buy and our reviews back up our talk.
If you were to google our company name, you will find that we have 100% 5 star reviews on google. We have 100% 5 star reviews on facebook. We have nothing but 5 star reviews on every single platform you can find, and there is a very good reason for that – every single wedding we DJ at is completely customised to meet the needs of the couple. Every part of the night meticulously planned, so that your night goes perfectly and we do not accept anything less than perfection. Here are a selection of our reviews from Google:
Loved Gary's set up when we saw it at a wedding fair, it was totally different to anyone else out there…not the bog standard equipment all other DJ's seemed to have that we'd come across (no offence). He was different, and that drew us in! So happy we went with Gary/Fizz and Groove, we were not disappointed. He was professional, but friendly from start to finish. Always helpful with any queries we had, and his "system" for selecting music was great. Loved the fact I could Vito music choices by my (now) Husband!! We were not disappointed on the night either, and nor were our guests, with many saying "what a great DJ/the music was awesome". From the personal details we did provide to Gary, he even played a track specifically relating to my Husband, which he of course loved and gave an extra personal touch. We have no issues with recommending Fizz and Groove and know where to go for a DJ, should we be in need of one in the future. Have no doubts, you're in safe hands with Gary.
Charlie Harmes
23/10/2023
We cannot recommend Fizz and Groove enough, they were amazing from booking to our big day, Gary was so accommodating with timings etc. and Mitesh our DJ for the evening was fantastic, he got it spot on and filled the dance floor. The ultimate wedding package is amazing value and was amazing not just with the music choices played, but also the lighting and attractive DJ stand. We loved every minute! Thank you.
Liza Magdalena
22/10/2023
I can't put into words how much I loved working with Fizz and Groove as the DJs for our wedding! From initial contact with Gary to discuss the overview of the day, to the first call with our DJ Mitesh - where we both vibed to a bit of Abba on the phone(!), we both we felt totally comfortable that we were going to have a great time! And when we asked for the Artic Monkeys to be mixed with Queen for our first dance (it did work) ... Mitesh did not disappoint!! Sending over a preview for us to approve; he hit the mark first time!! The day comes round and meeting Mitesh face to face for the first time was like meeting an old friend, he's so friendly! And like any old friend he even let me (& some of the guests) do karaoke on the night! THANK YOU!! FIZZ AND GROOVE, you really bought the good vibes to our wedding!! These guys should really be your first choice as DJs, we cannot recommend them enough! We had a great time, our guests had a great time and I'm sat wondering what I can book them for next!!
I could not recommend Fizz and Groove more! We hired Gary to be the DJ for our Wedding and he was fantastic! He was great throughout the entire planning process and curated the perfect playlist specifically for us. On the Wedding day he was organised and efficient in set up and once the music started I dont think the dancefloor was ever empty! We also hired the photobooth which was brilliant and provided many great memories! If you are looking for a DJ for your event make sure to go with Fizz and Groove!
Thank you so much to Gary and Luc for getting the party started at our wedding. My husband and I have a real passion for music and it was important to us that this was reflected in the evening disco. We didn't want a run of the mill Wedding dj that would be playing sweet Caroline etc so when I found fizz and groove online I knew they were who we needed. Fizz and groove will ensure that the music is tailored to what you like so that you want to be on the danceloor all night. Thank you again to the team, we wish we could do it all again! We also had the photobooth which we weren't planning on having at first but the guests loved it and we have seen so many great pictures come from it.
Rhianna Marchant
01/09/2023
We had the pleasure of having Mitesh as our DJ for our wedding last week in Surrey and he absolutely smashed it. He played pretty much all the songs we requested and provided such an epic atmosphere for our wedding party. Everyone has commented on what a good night it was. I would recommend Fizz and Groove for anyone looking for a DJ as we had a smooth booking process and efficient contact with the company from start to finish. They really go above and beyond to make sure you are happy. 5 stars ⭐️
Fizz and Grove DJ'd our wedding, Gary absolutely smashed it! From finger picking guitar to Latin jazz covers to banging dance music he had it all- He helped create the perfect atmosphere specific to us! If you hire Fizz and Grove you HAVE to get the photo booth too, genuinely provided us with some of our best pics of the day. So many of our guests were wanting his details after the night! Cannot recommend Fizz and Groove enough 5 stars all the way!
Dj Luc was amazing at our wedding, not just on the day but before and after the event everyone at fizz and groove were amazing helpful professional and everything we could have asked for. We 100% recommend them for any occasion the customer service and performance was outstanding!
Caitlin McAllister
09/08/2023
We booked Aaron from Fizz and Groove for our wedding and had THE BEST NIGHT!!! Aaron called us before the day to chat about what music we like, what our guests like, our must-plays, our do-not-plays, and lots more. We had a lot of Scottish traditions at our wedding so asked him for some ceilidh songs and Loch Lomond for the last song, and he took care to include these. We couldn't recommend Fizz and Groove enough, super friendly and attentive to what we wanted, but also read the room perfectly - our guests never left the dance floor!
Brilliant friendly DJ at a recent wedding I attended. Great music and happy for any requests!
Fizz and Groove came 2nd last year in the NATIONAL Guides for Brides customer service awards.
We are also approved members of the Trading Standards Buy With Confidence Scheme.
We pride ourselves on customer service. We aim to reply to all emails within 24 hours and on the day of the wedding we fight for that 5 star review every single time.
We provide every single client with access to our online event planner system, this allows them to login and add their "MUST PLAY" tracks as well as any "DO NOT PLAY" tracks. We then have a telephone chat two weeks before the big day to go through everything and make sure we are on the exact same page as you when it comes to your vision for the night.
Music/DJ SKILLS - We are the most skilled wedding dj kent has to offer
The most important thing when looking to book any DJ for any event is their skill and experience as a DJ.
At Fizz and Groove we have a wealth of experience. Gary, our main DJ and the owner of the business, has been a DJ for 17 years now. The last 6 of those years have been close to 100% weddings.
We also have 3 other DJs under the Fizz and Groove brand – every single one of them carefully recruited, having gone through a selection process to make sure they are absolutely brilliant wedding DJs with huge amounts of experience.
We do real LIVE mixing, no pretending, no pre recorded mixes. Between us we have played at all of the prestigous London night clubs, including Fabric, Ministry of Sound and Egg. We have also played around the world including: New york, Chicago, Ibiza, Puerto rico, Turkey and France among others.
More importantly, weddings are now our absolute specialty, as you will have seen from the reviews.
Reading the room, and knowing what songs to play and when, to make a crowd lose their mind, and go wild, is a skill we have in abundance.
At Fizz and Groove, every single piece of equipment is hand selected after huge amounts of research to make sure we have nothing other than the best equipment for the job.
We have unique handmade wooden DJ booths that other companies simply do not have. 
We use high end RCF speakers and ADJ lighting that is DMX controlled from behind the DJ booth.
Every booking comes with uplighters as standard.
We also carry extra pieces of vital kit just in case something breaks on the night.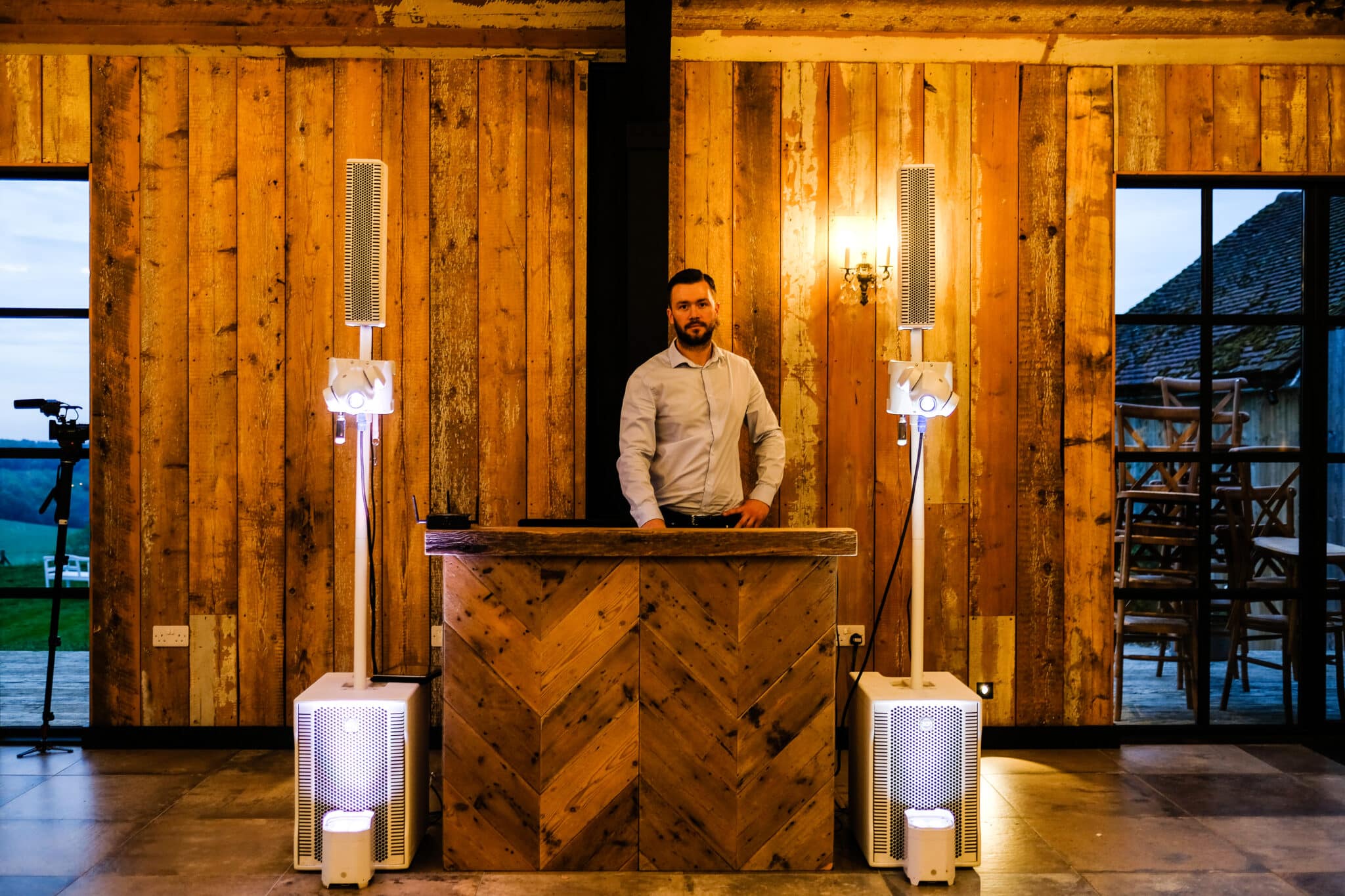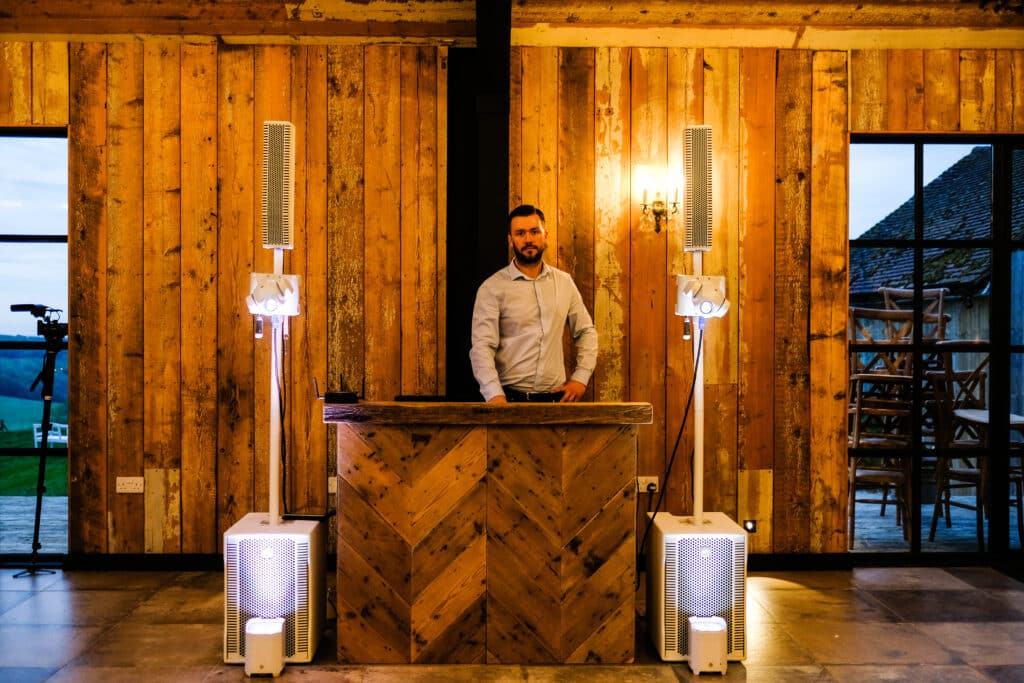 Fizz and Groove was originally built around all of the beautiful barn venues out there. We realised that most DJs turn up with futuristic looking kit, with metal or startlit cloth DJ booths which look out of place in a barn or rustic venue.
Instead, we have unique, rustic look wooden DJ booths that stand out from the crowd.
Our booths are hand built by a carpenter so you will not see them elsewhere. You will not find another wedding DJ in Kent with a booth like ours, in fact, you will not even find another one in the U.K.
Book now to avoid disappointment
We generally get booked up quite early, we often have enquiries for weddings 1-2 years in the future. That being said, we do sometimes have availability last minute, so it is worth sending us a message whether you are at the start or the end of your planning.
Take a look at our DJs page to see more information on our DJs or our Prices page for full information on our different packages and extras including selfie pods.
If on the other hand you are ready to send an enquiry, fill in the form below or send us an email at [email protected]