Our Selfie Pod Hire is by far and wide the best in the country. All of our selfie pods are CUSTOM MADE and hand built, meaning you cannot buy these in the shop or online. They are designed with style and class in mind. Gone are the old days of a big ugly enclosed photo booth with curtains. All of our booths are as instagram-able as the photos taken on them.
Each selfie pod comes with the following features as standard:
Photos, Gifs, Boomerangs, and even a Video Guestbook feature. Photos can be taken as singles or in blocks of different combinations.
Filters – you can choose from a large selection of preset filters.
Instant sharing to the user's phone via sms, Airdrop or Email.
Completely customisable service. The display screen can be set to show any image/background and any text required. For example "Romeo and Juliet's Wedding – 10/05/2021" or, for a corporate event, maybe a company name. The images can also have watermarks added, so if booked for a company event, all photos put on social media will give the company a bit of added advertising and brand awareness.
Our Selfie pods are available for hire in London, Surrey, Sussex, Kent and all of the "Home Counties". 
We will deliver, set up and collect at the end of the night.
None of our Selfie Pods require an attendant, they are designed to be extremely easy to use.
If you require a printer service as an extra this can also be supplied, with an attendant. However, there is an additional charge for this.
An album of the images/media from the whole night can be sent to the client after the event, so that the memories can be kept forever – this is something that is often missed when dealing with a traditional photo booth.
Fizz and Groove is a fully registered LTD company, with 100% 5 star reviews.
All equipment is P.A.T tested and we have full public liability insurance covering up to £10M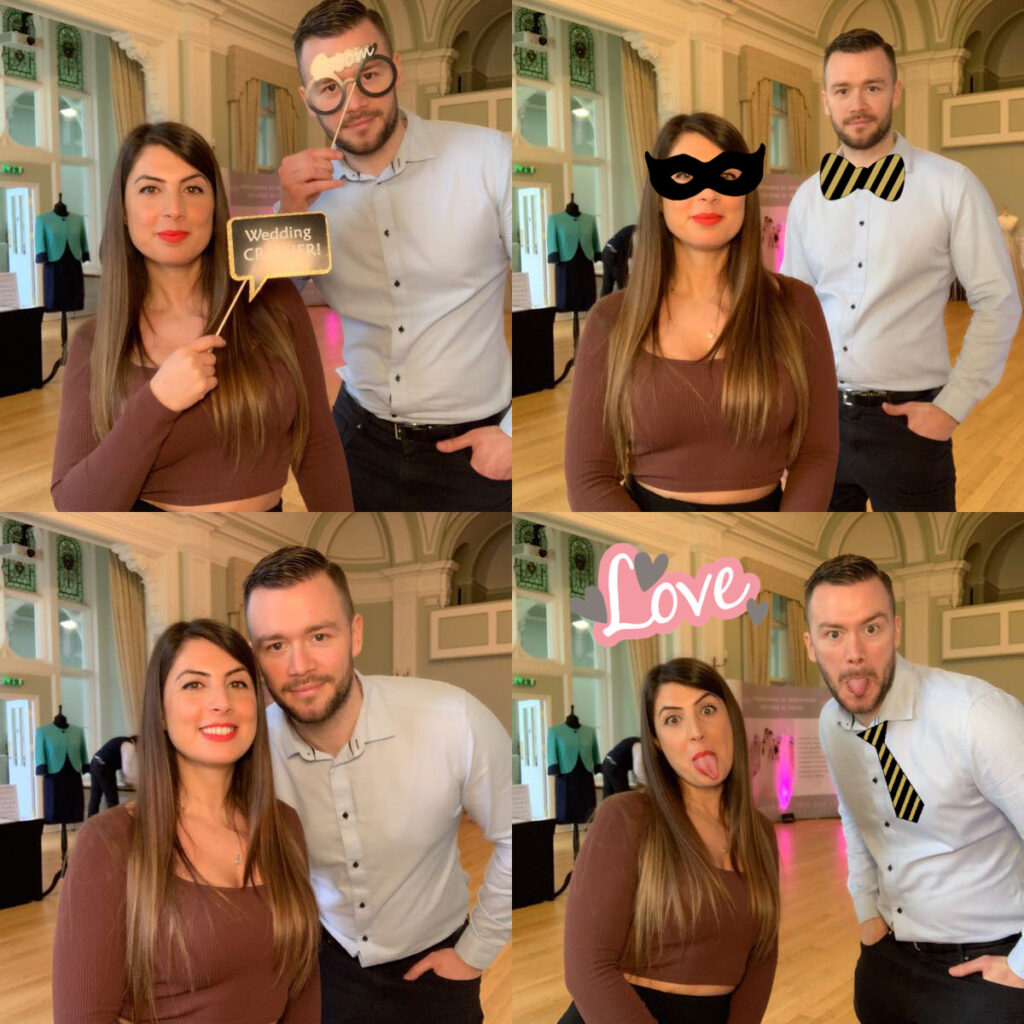 If you want to save money on a backdrop we can also provide custom virtual backdrops. Instead of spending hundreds on a flower wall, shimmer wall, or other types of backdrops, we can provide a virtual backdrop for an add on of just £25. Some examples of backdrops you could use are below, but there are endless possibilities with this and we can work with you to find something that fits your theme.
We are the most trustworthy and well reviewed Photo Booth company
Just in case you needed any more reasons to book with us now:
We are recommended supplier at The Clock Barn Hall in Godalming and have a very good relationship with lots of venues across Surrey, London and the whole of the south east of England.
We arrive early for every job
We can provide all sorts of backdrops and props if needed.
We are also mainly a DJ company. So we provide DJ services for Weddings (check out our rustic booths on our other pages), corporate events and Birthday parties). We do discounts when pods/booths are booked alongside a DJ booking.
Selfie Pod hire
Basic package for 4 hours when booked with a DJ
(Add £100 when booked separately)
Sharing via SMS, Email + Airdrop

All features mentioned above
Selfie pod Hire
Full event hire - all day if required
unlimited hire - USE ALL DAY