Photobooth hire in Sardinia
If you are planning a wedding in Sardinia and you have seen the cool photo booths we provide, you will also probably know that you currently cannot find anything like them on the whole island of Sardinia.
Most photo booths on the island (of which there are only around 5 available for a population of around 1.2 million people), are modern or basic. None of them are as interesting and have as many features as the Fizz and Groove selfie pods.
We quite literally have the best photo booth Sardinia has to offer.
What makes our Sardinian photo booths amazing?
Our booths are capable of taking not only photos, but also GIFs, boomerangs, and can even be used as a video guestbook if requested. 
Once the images are taken, you can add filters, just like the ones on instagram, to make your photos interesting. Choose from a long list including black and white, sepia, and lots of other cool effects.
You can choose to turn digital props on and off, giving you the ability to place a funny moustache or big red nose on you or your friends face.
Once happy with your images, you can send them to your phone instantly via text message, email, QR code, or airdrop – these can then be uploaded straight onto instagram, facebook or the social media of your choice
The whole album of images, GIFs and boomerangs are stored in the booth and we can then send you the whole album after the event. You can then choose to do whatever you want with these, you could even make a little memory album.
Prices are much cheaper compared to the competition. 
Let's be honest, they also look incredible. Much better than any other photobooth you will find in Sardinia.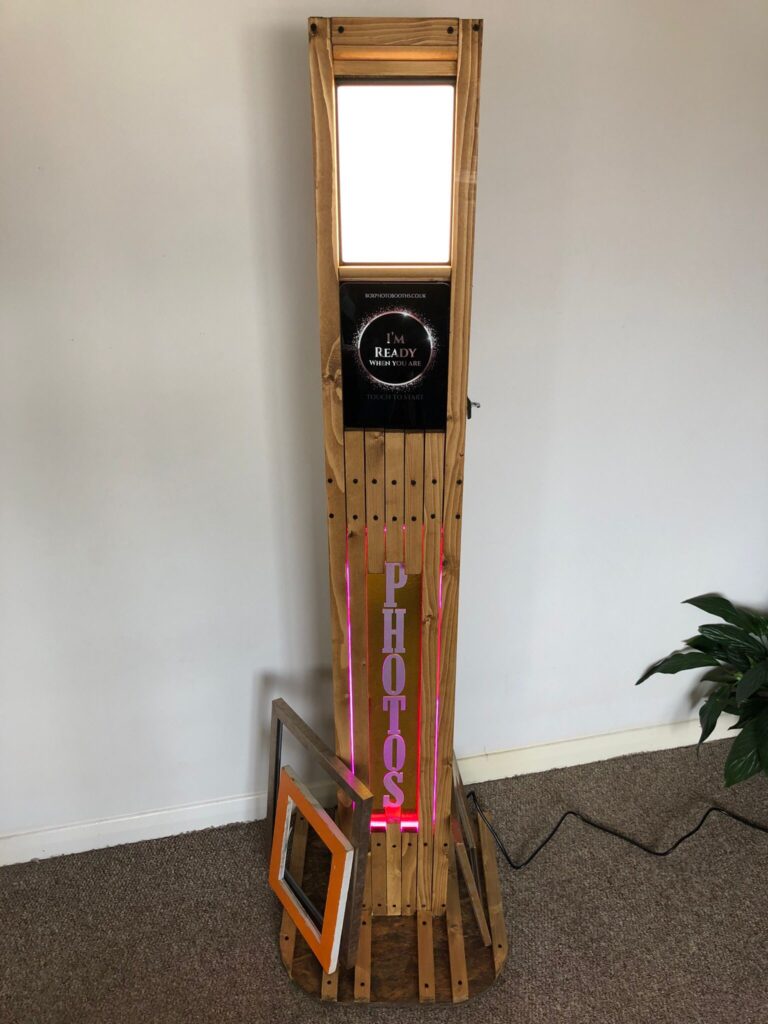 Moderno is the second photo booth we ever had built. It has been extremely popular in the U.K and is now going to be available in Sardinia, Italy from August 2023 onwards.
Moderno is pretty beautiful don't you think?
He has L.E.D lighting which you can see at the bottom, this can be set to a single colour, if you have a theme, or it can be set to change through a whole spectrum of colours.
The light at the top is a selfie light – it gives you the best possible lighting so that your photos are instagram perfect.
The screen you can see can be completely customisable
We can create a screen that says for example:
Anna and David's Wedding
12/06/2024
Then place that on a background that fits your theme. The design of this is included in the price.
Wedding entertainment Sardinia
Selfie pods are absolutely great fun, believe me, we have used our pods at hundreds of events and they are often being used the WHOLE night. If you are looking for entertainment for your wedding, I can 100% guarantee that a selfie pod is the best value for money that you can find.
We love them so much that we actually put one in our car, and drove it across Europe from London to Italy, so that we could use it at our own wedding. Check out the video below if you don't believe it!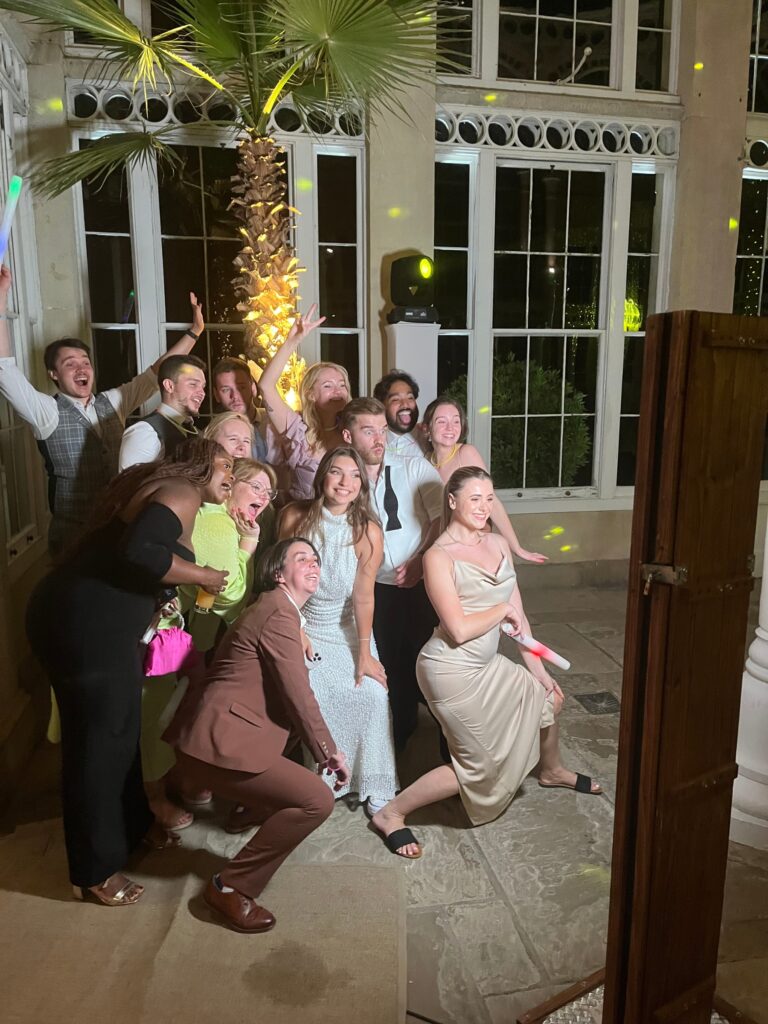 As a company we have 100% 5 star reviews. Take a look by googling: Fizz and Groove
This is consistent across all websites: Google, facebook, Trustpilot, Guides for Brides, Hitched, etc.
This means that you don't have to worry about anything. Planing a wedding in Sardinia can be stressful enough as it is. Booking with Fizz and Groove means it is one less thing to worry about. 
We also speak English, Italian and Sardinian fluently, meaning we can converse between you, the venue and anyone else we need to organise and arrange things with. I would imagine we are the only company in Sardinia that can do this.
So what are you waiting for?